I LOVE my metalsmithing class. LOVE LOVE LOVE IT. I wish I could go to it three times a week instead of just one. (That's not just because my instructor is a hottie either. Oops! Did I just write that?)
Yesterday, we completed our first project, a sterling-silver ring. I showed you the shaped and soldered version, but feast your eyes on the finished version: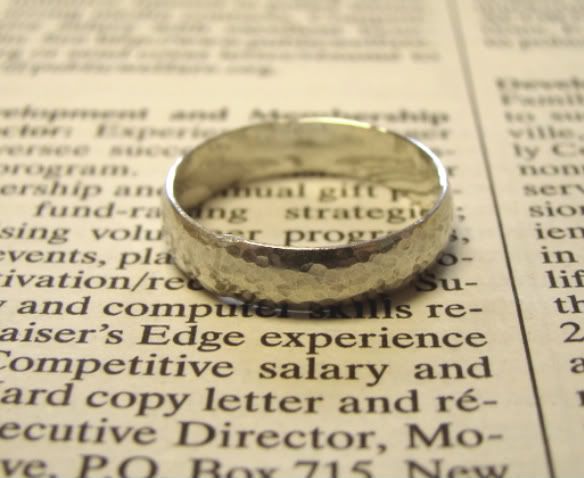 Ooo, it's so sexy. You can see the soldered part towards the left, but I think I did a pretty good job of covering it, considering this is the first piece I've ever made. To achieve the final look, I filed down the pointiness from my novice soldering, rubbed it up with sandpaper, added texture with a chasing hammer (yet another reason to love those things), and then put it in a jewelry tumbler. I love it! Action shots: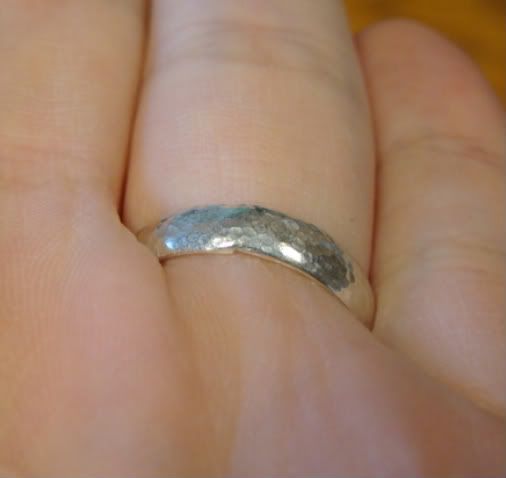 Oooooooooooooo!
Ahhhhhhhhhhhh!

I feel so accomplished. We're working on another ring and a silhouette pendant next time. Sooo fun!