Sorry for the brief hiatus. Illness, work and other ickies were interfering with my leisure time.
I had my first metalworking class last night. It was so much fun. Basic soldering is much easier than I expected. We all measured, cut, formed and soldered silver rings in the first class. Next week, he's going to show us how to add texture, polish and generally finish the piece. My ends didn't match up perfectly, but damn, I'm still impressed with my first attempt. What do you think?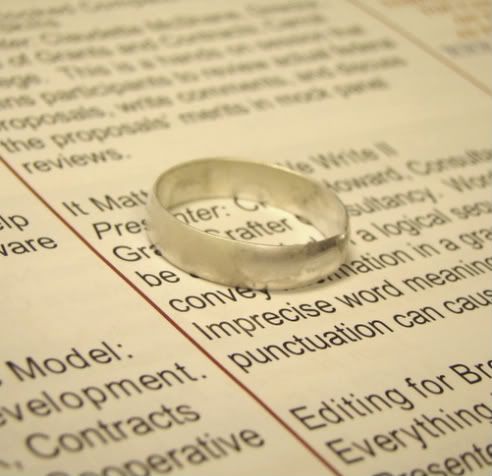 And a close up of the soldering itself. See?
It's a bit rough, but I'm proud. Yay! This torch was way less scary than the one we use for lampwork. :/ I'm taking the class with Emily, an Etsy friend. Her shop is
here
.
Tonight, I'll be learning to make mosaics with the
Tulsa Craft Mafia
gals. This means I need to remember to hit up the craft store for supplies after work. Let's see if I can make that stick in my poor, headache-riddled brain.
I plan to update my
shop
today as long as I have a few minutes to edit pictures. Here's hoping. :)