I'm home, and all is well. Santa Fe was a delicious delight this weekend, and coming home sure felt like punishment for something terrible I must have done in the past, but I've decided to whoosh right past the post-vacation blues into "Oh my God! Deluxe is this weekend!" mode. First, though, I do have some photos to share. I didn't take my usual route of snapping shots of everything I see. My camera's just bulky enough that I didn't carry it around much. Plus, my wonderful companion gets kinda embarrassed when I go all tourist on a new town. (He'll gladly whip out his GPS or fire up Google Maps on his iPhone, but me taking pictures is just too much. He he!)
My favorite thing to take pictures of is, for sure, signs. I just love the names of stores and their lovely illustrations. Here are a few I liked:
Here's a knickknack store called Moxie, photographed because we have a mutual affection for the name.
Cheri Cherie had, hands down, my favorite sign in Santa Fe. Check out this close up: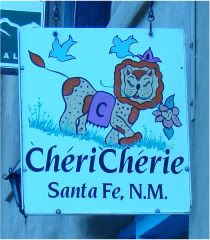 So adorable! For the record, Cheri Cherie is a fun children's store with some toys and books, but its highlight is all the costumes: ballerinas, cowboys, and lots of other goodies. The blue tint was due to the cloudy, raininess of our Saturday. Yep, it was cold and wet in the high desert, too. To be fair, we had beautiful sunshine the rest of the trip, but Saturday saw me all bundled up.
This is the (again, blue-lighted) sign for our fabulous motel, the Silver Saddle. If you are looking for a place to stay in Santa Fe and don't care about fancy amenities, this place will treat you right. It's a small property on Cerrillos Road, which is close to downtown but still far enough away to offer great rates -- $45 a night, to be exact! Woo hoo!
Inside Room #8 (where we stayed), you will find this wonderful story of Billy the Kid. It starts out, "Legend has it, Billy the Kid was half horse and half devil." AWESOME. Can you even read that without a a slow-speaking, grizzled old man voice playing in your head? Next to it once hung an old tintype of Billy the Kid, but some nasty former resident made off with it a while ago. Instead of framing a print from the internet, the motel owners hung a photo of Emilio Estevez dressed as the old-west legend from the movie
Young Guns.
OMG DOUBLE AWESOME.
And because a trip to Santa Fe isn't complete without a stop at the
Loretto Chapel
, I present you with my photos of the legendary spiral staircase:
In its full glory.
Ooo, shadows reflecting on the ceiling.
And with beautiful stained glass glowing in the background.
I could write a novel on our brief trip, but I'll spare you all the pain-staking details. Suffice to say it was one of the most exhilarating trips I've had in a long while. I felt rejuvenated and inspired just being there in the sunshine, taking in the wonderful smells, enjoying my 80 minutes of divine pampering at
Ten Thousand Waves
, exploring the amazing array of art and architecture, and spending a weekend the way I like with the one I love.
And now, back to business as usual and
Deluxe
this weekend!