These are the tasty vegan treats I ate yesterday.
I often start my morning with a delicious bowl of oatmeal, enhanced by pecans, maple syrup and lots of cinnamon.
(In the interest of full disclosure, I'll admit to photographing today's breakfast. I forgot to take the picture yesterday, but it was identical.) Oatmeal is filling, warming and healthy first thing in the morning. Yum!
I often go out for lunch, so I decided to hit up
Big Al's
. It's one of my favorite places. The food is healthy and easy to veganize. I opted for the avocado sandwich, minus the cheese. (It also had lettuce, tomato, sunflower seeds and onions.)
And I got a delicious pineapple-strawberry smoothie to go with it.
I had to eat a little later than usual because of an all-encompassing morning project, so I didn't end up needing a snack. For dinner, I roasted up fingerling potatoes, a pound of asparagus and two portobello mushroom caps. All had garlic, olive oil, salt and pepper. I added rosemary to the potatoes and mushrooms and balsamic vinegar to the latter only. Check out this mouth-watering plate:
If you've never roasted veggies before, all I did was preheat the oven to 425˚, clean and chop the veggies, drizzle olive oil in a 9x13" baking dish, move the veggies around to cover them with oil, and top with tasty things. Twenty minutes later, I had dinner. I now have the rest of the asparagus and another mushroom for tonight's dinner. There are no potatoes left because I ate the first half of them Monday night.
While preparing dinner, I had one piece of
Endangered Species
chocolate (the dark chocolate with orange flavor). I had another piece after dinner. I ate these too quickly to photograph, but here's a picture I stole off
Photobucket
: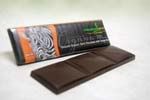 Around 9:30, I needed one final snack, so I had two clementines, arranged as artistically as I can because I thought it would make a nice picture.
They were sweet, juicy and delicious -- a perfect dessert. I may be a little obsessed with them at the moment.
So there's where my calories went yesterday. After a long weekend of dairy, processed foods and sodium, my body has been craving veggies and fruits. I am really looking forward to tonight's leftovers.