I'm dreaming of a weekend in a cabin surrounded by nature and art supplies. I was thinking this morning of how fun an arts-and-crafts camp for adults would be, and it occurred me that I could steal away to the woods any time I want to. Oklahoma has lots of lakes and accompanying campsites. I went to Keystone State Park on a photo assignment in my former life as a newspaper reporter, and I remember how beautiful I thought it was. The trees, the water, the hills: everything combines into the perfect atmosphere to reflect and create. Either alone or surrounded by other creative folks, it just sounds like a wonderful way to spend a weekend.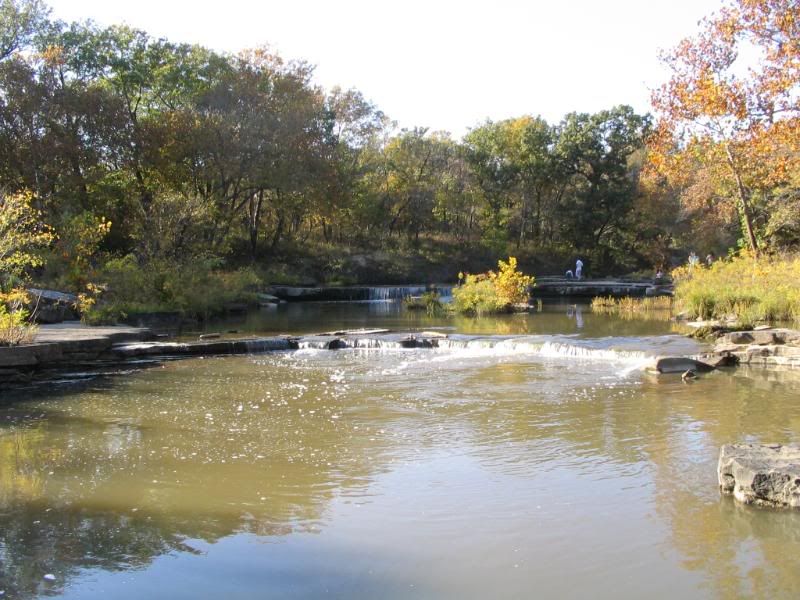 (Osage Hills State Park on a lovely fall day in 2007.)
I can't get the idea out of my head now, so I've been doing some research online. Cabins in local state parks seem reasonably priced. (I'd go whole hog and pitch a tent if I didn't hate sleeping on the ground so much. I'm not much of a roughing-it type of gal.) They have kitchens, bathrooms, fireplaces, and beds, so I could very easily just disconnect for a couple of days. I could eat oatmeal in the mornings, go for a walk just after, come back and paint or make jewelry or do something totally new, then have lunch, take a paddleboat on the lake, come back for more art, eat dinner, and crochet in front of the fire until bedtime. How wonderful does that sound? I'm currently trying to find info on staying at Osage Hills State Park near Bartlesville (north of Tulsa) because it's the prettiest state park I've never stayed in. It has hiking, boat rentals, beautiful scenery, and eight cabins.
So, who's with me? It would be a lovely way to spend an early-spring weekend.